Employee from Accessibility Standards Canada Competes on the World Stage
News release
Gatineau, Quebec
Accessibility Standards Canada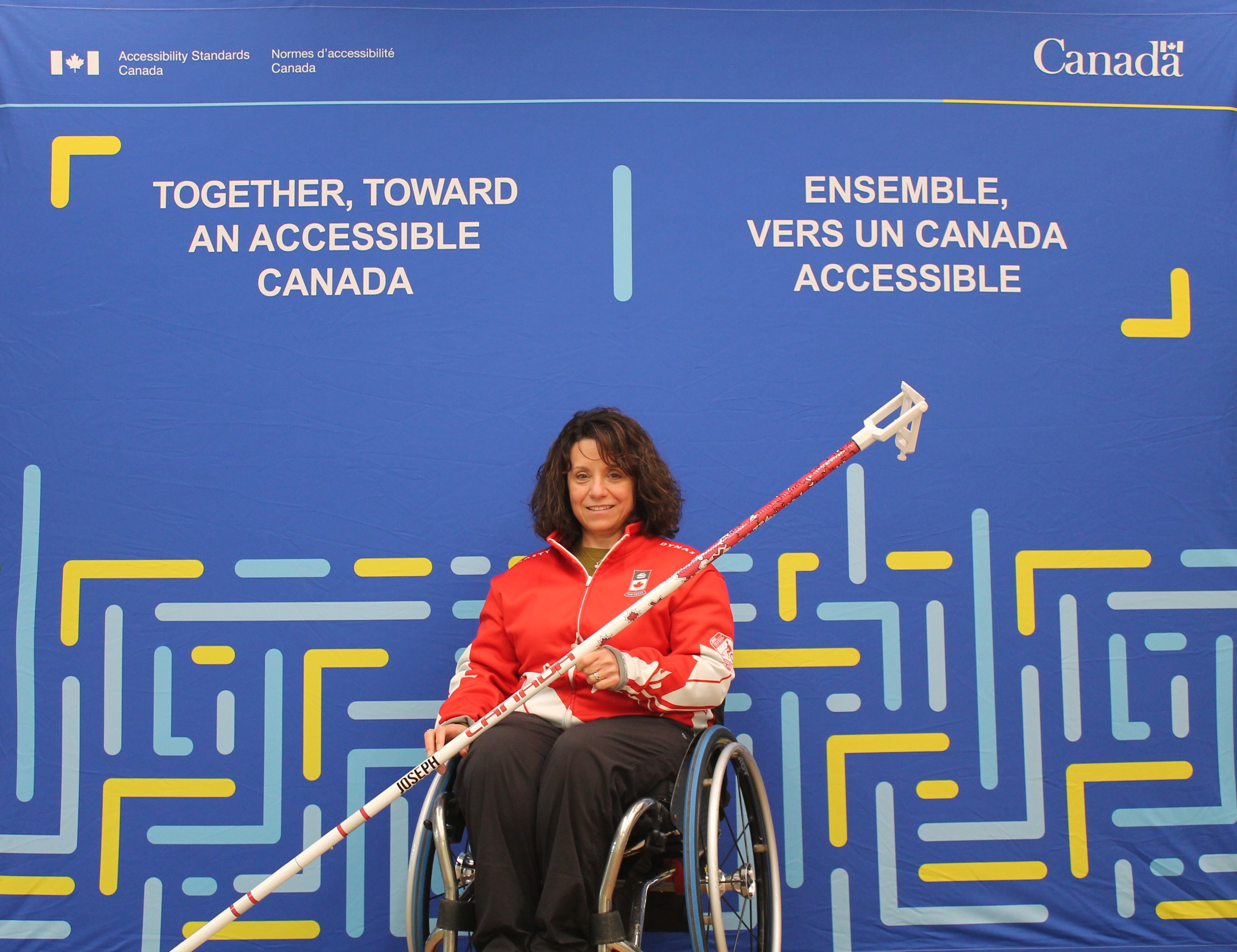 Collinda Joseph, Manager of Standards Development and Research at Accessibility Standards Canada, will be competing in the Wheelchair Curling World Championships in Beijing, between October 23-30, 2021. Success in this wheelchair curling tournament will help Team Canada qualify for the 2022 Paralympics.
Team Canada's Wheelchair Curling team members come from all over the country. They are selected from Canadian athletes who are scouted and selected by the coaching team, then put through a rigorous training process.
Training during the COVID-19 lockdowns was difficult, but it still meant a lot of off-ice physical training, virtual sessions where they continued to build team cohesion, worked on strategy, competitive IQ, and mental preparation. As Collinda noted: "it was really hard to make it work, but even online, we managed to connect with each other and build a great sense of team spirit. We need to focus and keep our minds clear during competitions. I remember my very first international tournament. I was so nervous that I was actually physically shaking. I missed my first shot, looked into the stands, and saw my coach laughing at me. That managed to relax me completely!"
For Collinda, it has been a long journey to get here. When she first took up curling, few clubs were accessible to those who use wheelchairs, and some clubs were reluctant to let her participate for safety reasons. She stated: "But now, perceptions are really changing. At first they thought we would be in danger of injuring ourselves on the ice. But now they're mostly afraid we'll beat them! With this change in attitude, clubs are becoming more accessible."
In her work at Accessibility Standards Canada, Collinda can see these changes happening everywhere. "Accessibility helps grow the sport, and provides opportunities to individuals with disabilities to participate at all levels of competition. This is very important, not only for the game of curling, but for any sport. I just want to be treated like every other player, and accessible rinks have helped us find success in the sport." She also attributes a large part of her success in the sport to the support she has received from the Ottawa curling community. "A decade ago, it was hard to get into wheelchair curling. Many clubs didn't have the right accommodations, and weren't properly accessible. But as the sport has become more popular, clubs are starting to recognize that we are curlers."
Accessibility Standards Canada is proud of Collinda's achievements and commitment to breaking down barriers for people with disabilities. With a third of our employees having lived experience of disability, personal connection to the need for accessibility standards are a major source of our pride, strength, and passion for what we do. These lived experiences embody our commitment to work with those who know best about living with disabilities towards a more accessible Canada. Achievements like this remind us that we all benefit when we are successful at ensuring full inclusion of Canadians, including our family, friends, neighbours, classmates, and colleagues. We believe this is why Canadians should care about what we do. We believe that Collinda fully represents the spirit of our mandate.
She says it's an honour to represent Canada on the international stage. "It's a mind-blowing opportunity to be part of the team. When I got my jacket with 'Team Canada' on it, I cried!" She is also happy to represent her home town on the world stage. "Stittsville is a great community to live in! It is very family-oriented. Their support means a lot to me at times like this."
Thank you Collinda for representing Canada at the World Wheelchair Curling Championship. Congratulations on your achievements!
Click here to watch Team Canada's performance in the World Wheelchair Championships.