Annual Public Meeting: Building momentum for a barrier-free Canada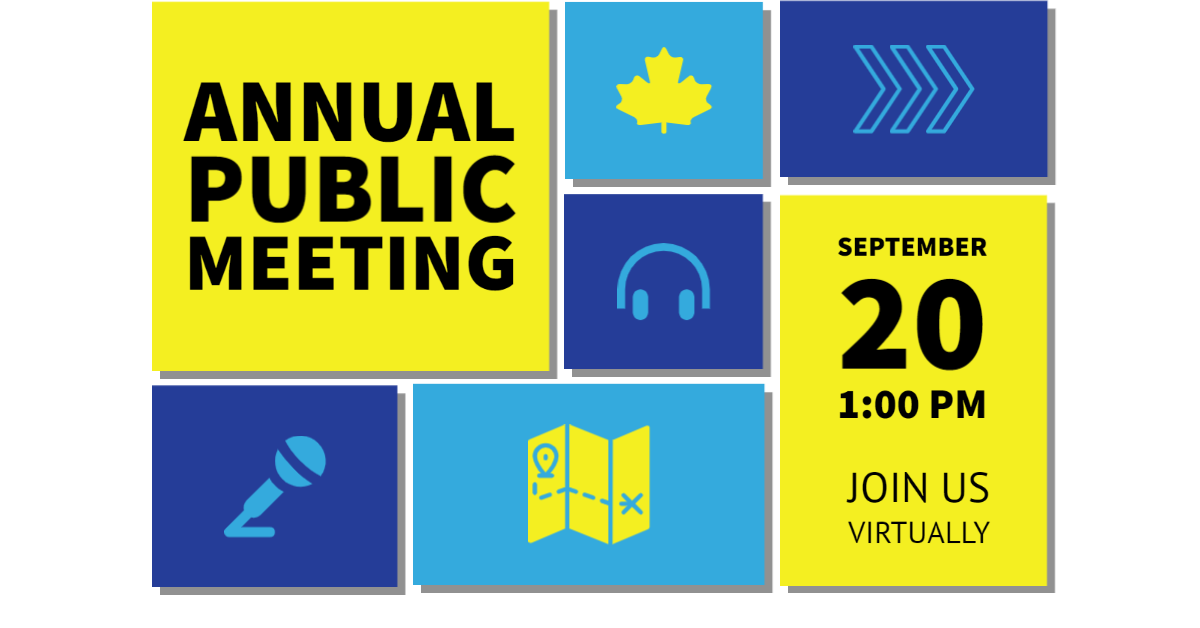 Momentum is building
Momentum for a barrier-free Canada is building. Accessibility Standards Canada has an important role to play, and your participation is essential. As standards start to take shape, we are preparing to host our second annual public meeting. Join us online for an opportunity to meet our Board of Directors and hear from a variety of accessibility experts.
Registration
The event is open to everyone. In order to address your accommodation needs, registration is mandatory. Use the button below to register.
Sign up by September 6, 2022.
Date
Tuesday, September 20, 2022
1:00 to 3:30 pm Eastern Standard Time
Joining the event
Once registered, you will receive a link closer to the event date.
Use this link on the day of the event to join us online.
There will also be an option to call-in and listen to the event by telephone.
This past year, we built true momentum toward our goal of a barrier-free Canada
During the annual public meeting, you will learn about the progress we made in the last year. You will also gain a clear understanding of our mandate and plans for the future, toward 2040. Our goal is to develop rigorous standards that will contribute to a Canada without barriers. A Canada where everyone, including people with disabilities, can be confident that opportunities and services are accessible on an equitable basis.
Stephanie Cadieux: Chief Accessibility Officer of Canada
Stephanie Cadieux is a change leader - an advocate for diversity, accessibility, disability and inclusion. She has served as head of various ministries in British Columbia. She is a member of the disability community and understands the issues. Ms. Cadieux will tell us more about her new role as Canada's first Chief Accessibility Officer.
Michael Gottheil: Accessibility Commissioner of Canada
Michael Gottheil is a committed justice sector leader. He served as tribunal chair, mediator, lawyer, advocate, mentor and business leader. Mr. Gottheil's journey living with vision loss has allowed him to contribute to his collaboration with the disability community, and all those who are committed to equity and human rights. Mr. Gottheil will tell us more about his new role as Canada's first Accessibility Commissioner on the Canadian Human Rights Commission.
Agenda (Eastern Standard Time)
Official program of the 2022 annual public meeting.
Time
Activity
1:00 PM
Welcome
1:05 PM
Opening words by an Elder.
1:15 PM

Board presentation:

Mandate of the organization
Roadmap to 2040
General updates on the work of the organization.

1:40 PM
Presentation on standards development.
2:00 PM
Break
2:15 PM
Our Mandate to Collaborate.
2:25 PM
Presentation on Grants and Contributions program.
2:45 PM

Panel Discussion: The Accessible Canada Act - Key players

Chief Executive Officer, Accessibility Standards Canada
Chief Accessibility Officer of Canada
Accessibility Commissioner of Canada

3:15 PM
Concluding remarks and how to get involved.
3:25 PM
Event ends.